As schools contend with the fluid situation regarding Covid19, we've gathered some tips and strategies to help facilitate remote learning should your school decide to close down temporarily. Note that this article is primarily focussed on remote learning, teaching and grading. Broader issues such as logistics and attendance are beyond the scope of this article.
Video Conferencing
For creating "virtual classrooms," video conferencing services let you teach live remotely. You just need a computer with a webcam (which most laptops and tablets have built-in) and an internet connection. Many of the tools listed below are free or low cost to help schools dealing with the Coronavirus outbreak. Gradelink has no relationship with these vendors.
Zoom: Currently offering free accounts to schools with the 40-minute time limit removed.
WebEx: Currently offering free accounts to schools.
Adobe Connect: Currently offering a free 90-day trial.
YouTube Live: Free, though may include ads; kid-friendly settings are available.
Facebook Live: Free and viewable even without a Facebook account.
To share with their students, links to recorded videos produced with these tools as well as videos posted on YouTube, Vimeo and virtually anywhere can be included in Gradelink teacher assignment descriptions, Lesson Plans, and embedded in School News and Teacher Pages.
Recording Instructional Videos
For remote instruction, teachers can create a screencast, which is a recording of what's directly on their computer screen. As with video conferencing, there are free tools available online. These services include hosting, so be aware that your videos may be public.
Vidyard: Also offers live streaming.
Loom: Pro Plan is free for teachers and students. Includes apps for Mac, Windows and iOS.
Jing: Download available for Mac and Windows.
Putting It All Together
Once you're set up and ready to go, here's a suggested process for schools that use Gradelink:
Make a screencast of your lesson with Jing, Vidyard or Loom.
In Gradelink, post the URL (link) of the video in the description of the assignment and attach any accompanying worksheets or other materials.
Students log in, watch the lesson and download the attached files.
Students turn in their homework by either scanning or taking a photo of their completed work and emailing to their teacher, or uploading work to a shared Google Drive folder.
Although tackling remote teaching may seem overwhelming at first, we hope this information makes it easier for you to get started.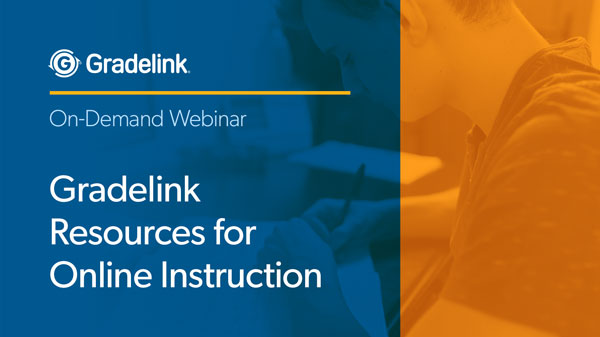 Gradelink Resources for Online Instruction
As schools close their campuses in the wake of the coronavirus, they are faced with the task of switching to online teaching. We're here to help ease the transition with tools for instruction and communication.
In this video, we demonstrate ways to use the tools already in Gradelink to help with remote teaching. We cover:
Assignments and attachments
Communication tools
Teacher and School News Pages