2 of 3
|

MARKETING YOUR SCHOOL ONLINE
In our first post on effective marketing for private schools, we discussed how important modern marketing techniques are for reaching prospective families on the web, where they do most of their searches for school information.
Here in Part 2, we'll cover what your school needs to do to develop your presence and maintain a positive reputation online.
These methods will require an ongoing effort, but you'll be able to engage future enrollees and current families alike. Maintaining your presence and reputation online provides support for word of mouth and referrals, and helps you respond quickly to any negative criticism.
Social Media
An effective online marketing strategy includes establishing official social media pages for your school. This should include major platforms like Facebook, Twitter, Instagram, and YouTube, as well as widely-used specialized networks like LinkedIn or Pinterest.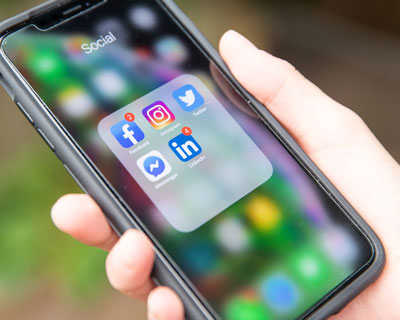 Each page should include some images and school information, links back to your main website, and connect to your pages on other social media platforms.
Some platforms will be more useful than others. For example, there might not be a useful way to reach prospective families on LinkedIn.
Even if one particular channel doesn't seem like a good fit, however, creating official profiles for your school across social media platforms will help to control your school's reputation on the web. Establishing an official online presence prevents others from using your school's name without permission. Creating official pages also sends search engine users to the pages you want them to see.
Don't forget that using social media in this capacity is still marketing, as Private School Review notes. Your social media posts need to be thoughtfully designed to help you achieve your marketing campaign goals.
Social Media Management
HubSpot offers a few tips on social media management, including:
Limit social media work to a scheduled time each day. Facebook and the like offer endless distractions, so place some boundaries on the time you devote to these channels.
Don't try to be active on every channel. Unless you have a dedicated social media manager, you won't have enough time in your day to keep up. Take advantage of cross-posting opportunities (such as posting content on Twitter and Facebook at the same time) when it serves your purpose.
Use every platform according to its strengths. For example, Instagram is primarily a photo-sharing network, and Twitter is best for bite-sized news and updates. Not all content will work well on every channel, so choose the best fit for the messages you want to share.
Claim Your Review Sites
Many of the benefits of establishing your social media presence listed above also apply to crowdsourced review sites like GreatSchools, Private School Review, and Yelp. "Claiming" your school on these sites by creating and monitoring an official profile will help you maintain a good online reputation and engage with current and prospective families.
Unfortunately, every "reviewable" business out there, including schools, will experience some negative online feedback eventually.
Research shows that people are more likely to post online about a negative experience than a positive one and that ignoring bad reviews can have detrimental effects on your reputation. You can turn these negatives into positives, however, by answering critical reviews with well-thought-out and helpful responses.
As Yelp says on its blog, responding to negative reviews professionally, positively, and publicly is the best medicine. You'll show future visitors you are interested in improving your school's experience, engaging with your community, and that you can respond to criticism in a constructive way.
Also, informing your school's families that you're active on Yelp and other sites is a great way to encourage good feedback, which reduces the impact of negative reviews. Families who are happy with your school are more likely to leave a good review if you ask them to directly—just avoid paying for reviews. Encouraging social sharing through email signatures and other mentions can lead to more positive reviews.
Email Campaigns
Social media and review sites have grown in importance, but email marketing—now considered "traditional" marketing in some circles—still has a place at the table.
Email is still a useful marketing tool for a number of reasons, beginning with the low overhead. Once you've collected a prospective family's information—through an online form, social media, or other channels—your student information system will make it easy to respond to their questions and requests for information. You'll also receive an email alert when a new prospect submits contact information and be able to save notes for future reference.
"Drip" email campaigns—a series of automated emails sent on a strategic timeline—are also effective for reaching prospects, though these typically require using tools like Mailchimp or Constant Contact.
Whatever your plan for email marketing, each message should be targeted and personalized for the audience that you want to reach. Providing content and messaging that is relevant to your leads is the best way to keep them engaged and turn them into new enrollees.
Click here to speak to a Gradelink representative about marketing your school online more effectively.