7 of 8
|

PRIVATE SCHOOL ADMISSIONS
At most schools, enrollment isn't nearly as easy as it ought to be. Obviously, private school admissions directors and parents alike want the procedure to go as smoothly as possible. Making the whole thing more efficient is a win for all involved.
Keeping the process convenient is the key. If something takes two seconds longer than it should, we get impatient. And if something isn't "click, click, buy," we may just move on. So make it easy and frictionless to complete the application and enrollment processes online.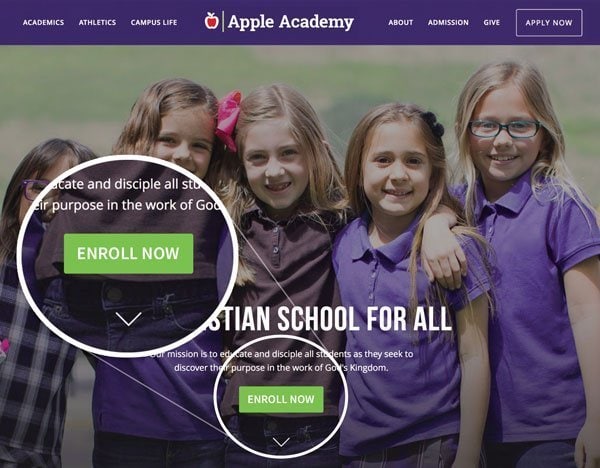 Start by making the "enroll here" link stand out. All too often, school websites seem to make enrolling difficult or frustrating. Either the link is buried under menus or it's at the end of a very long page listing every prerequisite to attend the school. So let's look at what you can do to make enrollment easy and painless for both new and re-enrolling families.
Moving your
enrollment
 to the internet greatly streamlines the entire process and eliminates problems like lost paperwork and illegible handwriting. Yes, people will still apply on paper if they have to but if you allow them to do it online, most will prefer it. And your staff will appreciate the amount of time and effort saved.
"If you ask a parent if an online form makes a difference they'll probably say no, but subconsciously, it really does," principal Jeff Sell explains. "If a parent feels better about another school because they don't use paper forms, then you just lost a potential student. If we had lost even one student's papers, we would have lost more than it cost to use Gradelink for an entire year."
If you have a full-featured
student information system
, you can link your "apply" button to your online enrollment account, so new families can apply and returning ones can re-enroll directly.
If you don't have a student information system that can accomodate that, try using an online form tool, like JotForm or Typeform. A third option is to link your "apply" button to a PDF version of your admissions forms. Parents can then download them, fill them out and return them by email or bringing them in to your office.
By moving your admissions online, you'll save time for you and your applicants.
EnrollMe
is a premium add-on to Gradelink's standard service that turns your paper-based enrollment process into a streamlined parent portal on your website, boosting enrollment and eliminating time-consuming data entry.