Tuition & Billing
Flexible bookkeeping makes dollars and sense.
Automated Pay Plans
Gradelink's tuition and billing section gives you the flexibility to create payment plans for students/families to pay down tuition and other fees in installments.
Create different pay plan schedules and rates for students. Charges appear in the ledger when you close your billing cycle to save you from manual entry. Print a statement for parents showing payments received and new charges at the end of each month.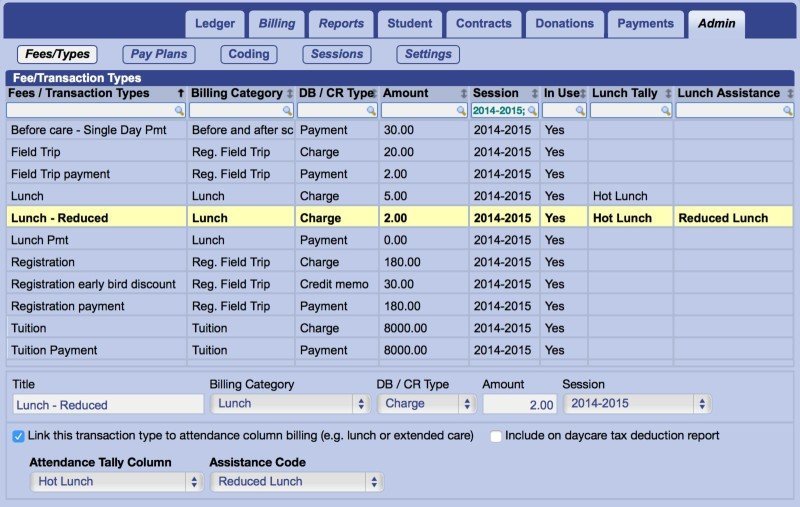 Automated Lunch Billing
If your teachers take a lunch count, you can sync it with the student ledger so any appropriate lunch fees are automatically charged to the student's account. You can incorporate regular rate, reduced rate, and free lunches as well.
Control when charges are posted to the student ledger or allow parents to make payments ahead of time. Run a lunch billing report to view lunch billing information exclusively. Also, track lunch payments received. Yummy!
Multiple Tuition Rates
Track reduced-rate tuition with ease. Gradelink allows you to charge variable rates, as well as credit student accounts when they receive scholarships or funding. Configure as many different transaction rates as you would like.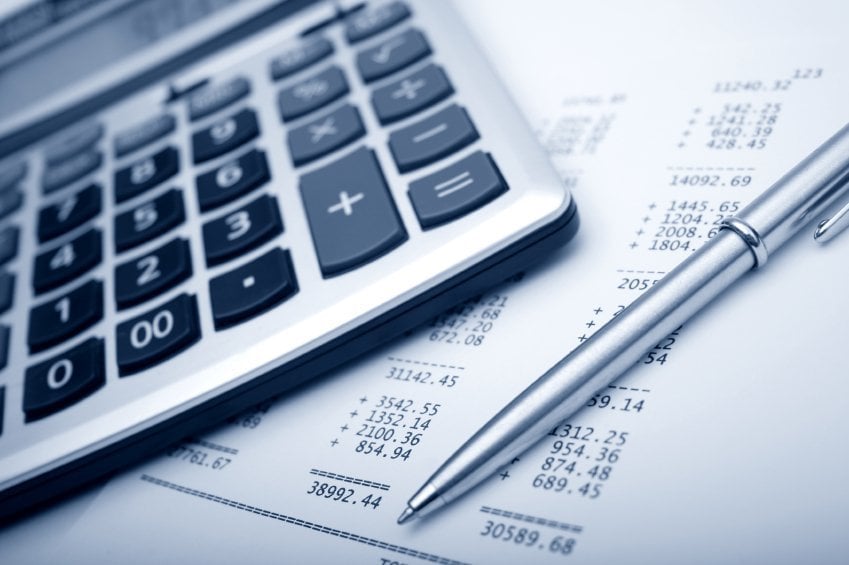 We are now able to receive payments online, which has been hugely helpful! We have also been able to track after school fees, hot lunch fees, attendance, and the list goes on!
Stay on Top of Your Budget
The Account Balances report allows you to view transaction totals within customizable billing categories so you can view how much money has been charged and collected school-wide.
View school-wide tuition totals, lunch transactions, and much more. Use this report to create your school budget and project next year's financial information.
One Stop Shop
Gradelink offers integrated payment processing, allowing parents/students to pay their school charges conveniently and securely online. ACH (eCheck) and credit card payments deposit right to your school account. Enjoy very competitive processing rates. Call today to see how much you can save.
Powered by:

PAYMENT PROCESSING
Receive Payments Faster Online, for Less*
Gradelink offers integrated payment processing at competitive rates. Put a payment button in front of parents to let them pay any outstanding balances on demand. Collect registration fees by integrating with EnrollMe online enrollment. Fully automated recurring billing is now available. Upcoming features will include complete integration with the student ledger. Speak with a Gradelink representative for more info today.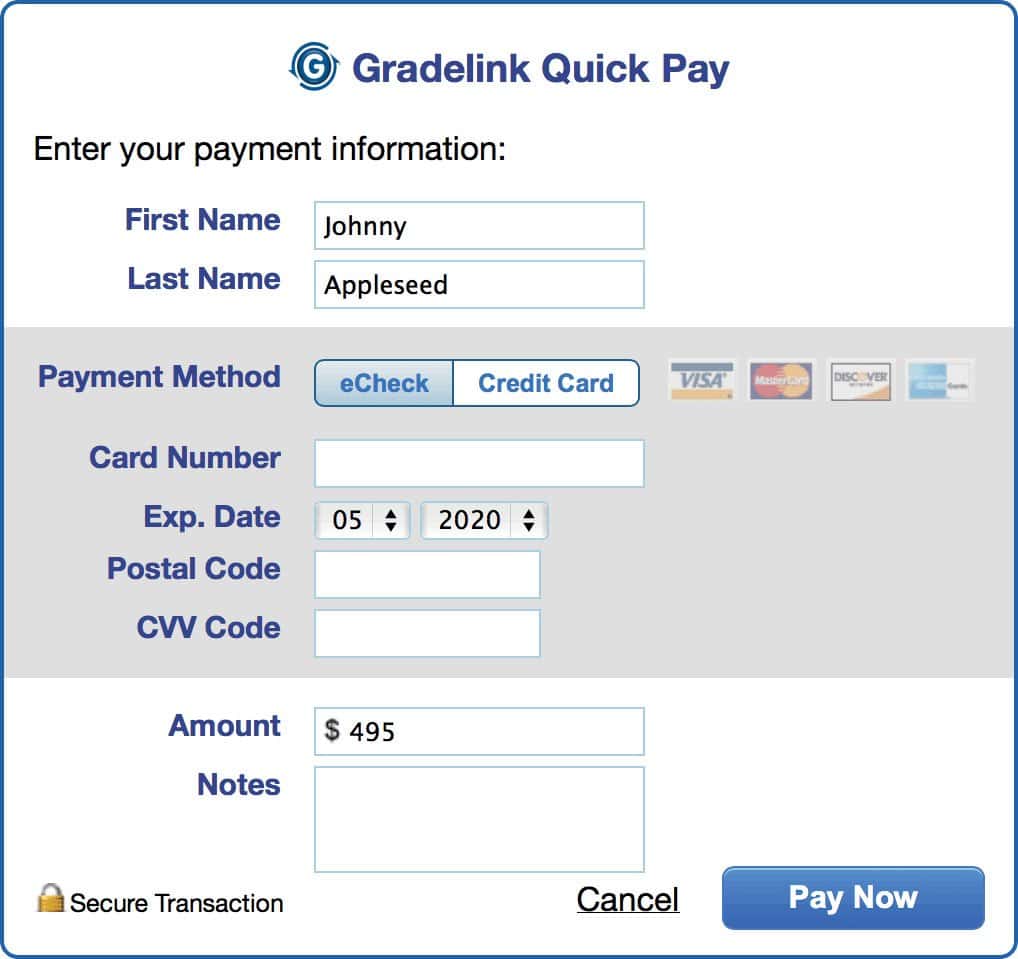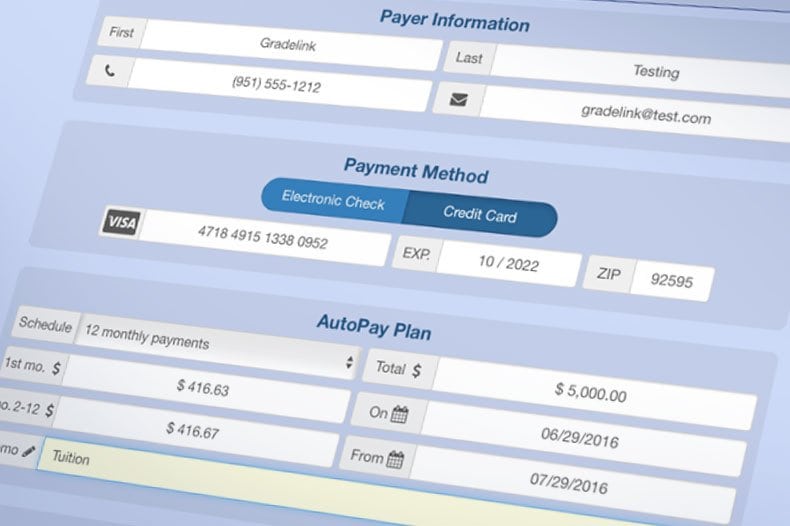 With this addition to Gradelink Payments, recurring tuition billing can easily be automated right in the Gradelink interface. AutoPay uses plain language to make it simple to configure a set number of payments, spread out over a given time period, using any of your accepted payment methods. Plus, get notified if a payment has failed.
Process all major credit cards at very low rates.
Process ACH (bank account) debits for a low, flat fee.
Collect payments from parents right within Gradelink.
Set up automatic recurring tuition payments online.
Integrates with EnrollMe—collect fees during enrollment.
Gradelink Payments is also a secure and convenient way to collect money for fundraisers. Payments for raffle tickets, auctions and donations can be made  directly from any smartphone with a mobile app and mobile credit card reader from PaySimple.**
We've partnered with PaySimple, an established leader in payment processing. Together we are able to offer Gradelink users exclusive pricing and low credit card rates. With no long term contracts, no late fees assessed and an easy setup process for you and your students, your school community could save thousands by switching to Gradelink Payments. Call us at 800-742-3083 or fill out the form to learn more.
Gradelink Payments is currently only available in the U.S. and Canada. Please contact us with any questions.
Online payments boosted our revenue.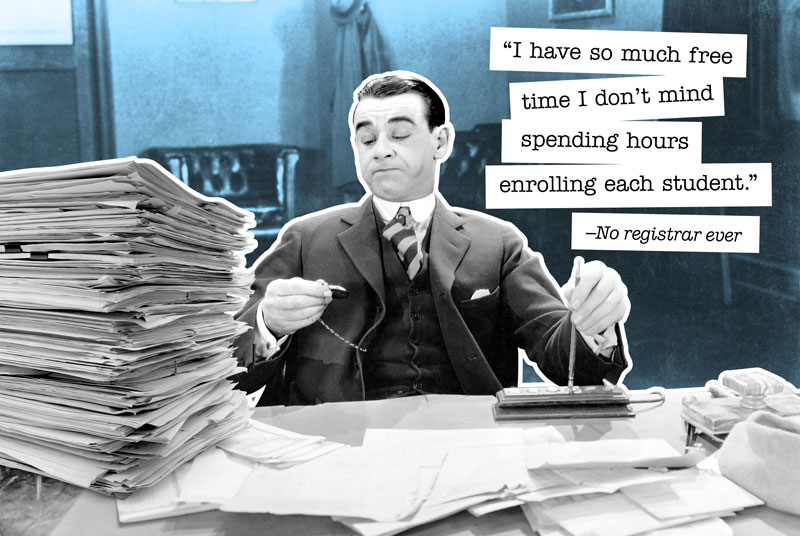 Streamline Your Admissions
Cut hours of paperwork and improve enrollment with EnrollMe, Gradelink's online enrollment system. Embed EnrollMe on your school's website so parents can register securely at home or on the go. Then, once prospective parents submit their enrollment information, it appears right in Gradelink, where applicants can be reviewed and approved.
*Gradelink Payments is currently only available in the U.S. Please contact us with any questions.
**Additional fees from PaySimple may apply.