3 Reasons Families Leave Private Schools and How to Retain Them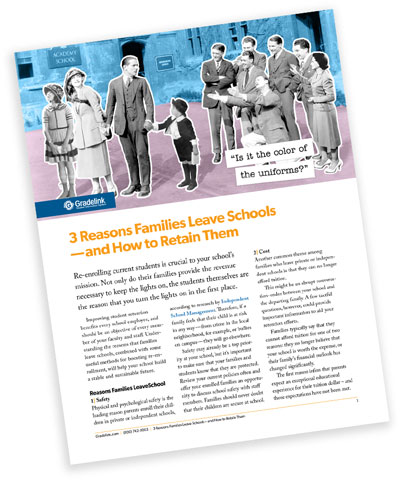 Do you know three of the biggest reasons families leave private schools? Here they are—and what you can do about it.
Fill out the form to get your free guide:
Your information will be used to send you this white paper. We will only send you relevant information. While we may use your email address to help target Gradelink's digital advertising, we will never sell your information to any third parties. You can unsubscribe at any time. View our full Privacy Policy.
User Friendly
We design with you in mind. From the teacher-friendly GradeSheet, to our three-step report card generation, our continual focus on the user experience means you'll spend less time clicking and more time doing what you do best – educating.
100% Cloud
The Gradelink dashboard provides secure access to critical information from any internet browser. Get academic data, contact details, enrollment reports and more – no special hardware or software required. This student management system allows you to work from anywhere, on your schedule.