When private schools and other nonprofits invest in technology, every penny counts. The targeted programs and discounts listed here in alphabetical order help groups do more good for less.
Note: Gradelink does not officially endorse or maintain vendor affiliations with any brands or retailers offering tech for nonprofits, with the exception of Gradelink School Websites. This is simply a list of helpful resources compiled from school feedback and the offers listed may change without notice. Have more? Drop us a line and we'll update this list.
AFFORDABLE TECH FOR NONPROFITS
4imprint one by one
Every business day, 4imprint gives three different organizations—including accredited schools—$500 worth of promotional items through its one by one® program. 4imprint carries hundreds of different types of products, including calculators, USB drives, pencils, notebooks, backpacks, keychains, and more, that can be personalized with your school's logo.
Apple Certified Refurbished
In addition to discounted education pricing on new products, Apple offers discounts of up to 30% off on refurbished products. When ordered from Apple, they are essentially in like-new condition and likely the best discounts you'll find.
Canva
Need to make flyers, brochures, or social media posts? Canva offers both a free and a Pro version. Note that the Pro version is free for churches but not schools. Read more here.
Catchafire
Catchafire provides non-profits with services like:
Fundraising
Marketing
Grant enhancements
Strategic planning
Tech systems set up and more.
They charge for services, except for schools in New Jersey. Read more here.
Good360
Good360 distributes donated goods such as electronics, apparel, office/school supplies and personal care products. You can't sell the products or give them to another non-profit but you can use them for your own school. You'll have to do some paperwork to keep track of what you've received. Read the restrictions here.
Google Ads
This is an amazing find. You can get up to $10,000 worth of Google Ads per month to promote your non-profit! You must be registered on TechSoup.org to be eligible.
To keep the ads going, you have to maintain a 5% CTR (click through rate); make use of geo-targeting; feature at least two active ad groups, which must contain related keywords and two active text ads; and… the list goes on. Get started here. There's a lot of potential here, but be sure to have someone who knows Google Ads inside and out run your campaigns. Read the restrictions here.
Google Apps for School
G Suite for Education, Google's collection of apps for schools, is available here.
HootSuite
Hootsuite allows you to manage and schedule all your social media posts in one place. You can use either the free plan, or get 50% off Professional and Team plans as a non-profit.
Kami
Kami is an app that makes any document interactive, allowing teachers and students to add text and notes. This is especially helpful because students don't need to print worksheets, fill them out, scan and resubmit them. Try the free version here.
NewEgg
Like TechSoup, NewEgg sells computer hardware. It has a much wider selection, but at less of a discount.
New computers: With Windows PCs starting at less than $300, this is a valuable website to shop for computers.
Refurbished: Most come with a warranty or reasonable return policy. Chromebook laptops start at less than $70.
Office 365
You can get Microsoft Office for free for your whole staff and for all students—and even their parents! The new version offers both web-based and installed options. Plus, Gradelink integrates with Office 365.
Salesforce Donation Management
Salesforce provides a donation management system for free to non-profits. Configured out of the box for nonprofits to donations, volunteers, and supporters.
TechSoup
TechSoup is a great place to purchase software and hardware. They beat leading online retailers almost every time. The only negative is they have limited stock.
Websites
Turn your website into a recruiting powerhouse.
Book a free 15-minute consultation for expert advice on ways to improve your school's site.
Sign up for Gradelink's free email course designed to improve your enrollment.
Time to replace your old website entirely? Talk with Gradelink about an affordable, easy-to-manage website custom-built for your school. Our website services are discounted for non-profits!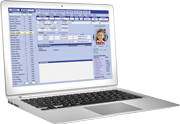 Another great way to save money on tech for schools—consolidate everything into a single, integrated system that's easy to use. Click here to watch a free demo.