HOW TO IMPROVE SCHOOL ENROLLMENT
As Principal of Saint Mary Magdalen School in Camarillo, California, Michael Ronan's devotion to serving his staff and families has found him continuously on the lookout for new ways to improve their daily experience. In the fall of 2014, Michael had his eyes set on tackling the admissions process: parents were filling out the same paperwork year after year, and Michael's secretary was regularly overwhelmed as her desk was slowly consumed by mountains of paper. Michael knew that his staff and his families deserved better. He reached out to his Gradelink account manager, Tom, who introduced Michael to EnrollMe, a customizable online admissions platform. Less than two weeks later, his school was set up, and his staff had started training on the new system. The following week, parents began submitting forms.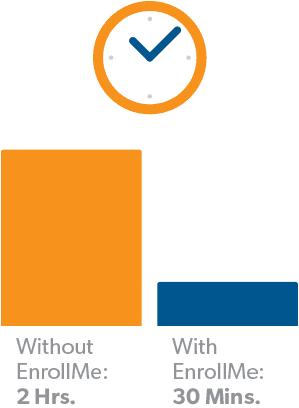 For Michael, the difference was night and day. In the past, parents were required to fill in the same information every year. Now, data entered by parents is automatically imported from previously submitted applications when they re-enroll for the following year.
Furthermore, in addition to virtually eliminating the endless stacks of paper, moving the admissions process online has also made it easy to follow up with parents and has done away with expensive printing and postage.
Michael's team has seen the average time spent per processed application drop from two hours to less than 30 minutes, and they love the peace of mind gained from being able to start enrollment season early, well in advance of the end-of-year rush.
With EnrollMe, Michael revolutionized his school's admission process by introducing his staff and families to an efficient, user-friendly, all-in-one system that consistently saves time and money. The school has even seen a boost in enrollment too!
Read what Prince of Peace Lutheran School did to improve school enrollment in part 2.
Are you ready to revolutionize your enrollment process? Click here to get started today.